FAQ
Broghies Frequently Asked Questions
What exactly is a Broghie?
Broghies popped grains are a healthy alternative to bread or crackers. They are disc-shaped, the size of a saucer and can hold hot or cold toppings. They are unflavored and provide a crunch. They are low-carb, low fat and low calories. There are no added preservatives. For more information click here.
Where can I buy Broghies?
Use the Broghies locator and put in your address in the search box.
Why is it called Broghies?
The Co-founders both have daughters named Broghen and Brogyn – so in proper familial tradition, they decided to leave a legacy for them. More Info.
What's the expiry date for Broghies?
Broghies popped grains keep for at least four weeks.
Where can I get Broghies recipes?
We have some on this site and you can find them on Pinterest and Instagram. You can also search #broghies in Google or BING. Join us on Facebook for the latest recipes.
Can I share my Broghies Recipe?
Yes, go here on our website to share your recipes. We'd love to see what you do with your Broghies popped grains. We do moderate all posts to ensure accuracy. Ensure to write your name, the name of your blog (if you have one) and the city, country you are from.
Are Broghies sweet or savory?
We don't add flavorings so you can decide. Some Broghies fans use them like a pie crust, some for dipping like crackers, and some add chili, turkey and stuffing and so much more. The Poppabilities really are endless. Check out our recipes.
How are Broghies made?
Watch our Video…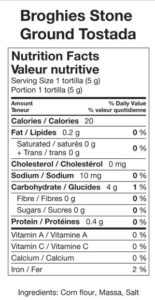 Broghies Dietary/Nutritional Questions
How many calories are in a Broghie?
Less than 25 calories per wafer
Can I eat Broghies if I'm diabetic?
Yes.
 Are Broghies Gluten Free?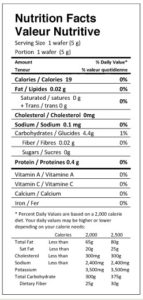 Broghies Tostada do not contain gluten but we can't guarantee they don't come into contact with gluten in the bakery department. The original Tostada contain wheat.
How many carbs are in a Broghie?
4 carbs per wafer – see our blog post on Atkins and Broghies
How many Weight Watchers Points are Broghies?
One Broghies Tostada wafer is 1 point.
Broghies Corporate Questions
How can I get Broghies in my store?
Please contact us directly.
Do I have to have a machine and make them in store?
No, contact us for more information.
Where is head office?
In Waterdown, Ontario, Canada